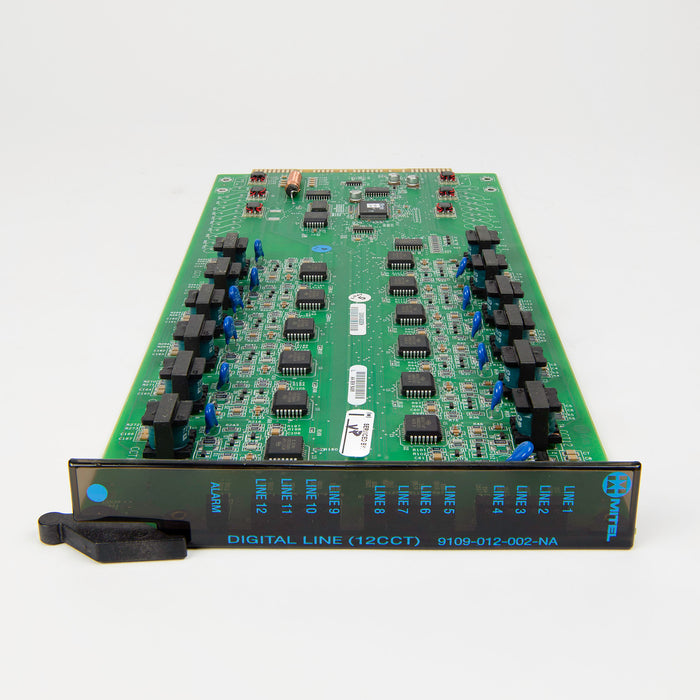 Mitel 9109-012-002 (12 Circuit) BNIC DNI Card
The Mitel 9109-012-002 is a 12 circuit BNIC DNI line card used to connect supported Mitel digital telephones to a Mitel SX-200 Digital, Light, ML, EL or ICP system. It has blue colored writing on its face plate.
Depending on your system's configuration, this card will support the following Mitel digital Superset telephone sets: 3DN, 4DN, 401, 401+, 410, 420, 430, 4001, 4015, 4025, and 4150.
Note: The 9109-012-002 is considered a "bonus" DNI card. Please make sure you are aware of it's restrictions. Your system will only support as many of these cards as paid for in your license agreement with Mitel. If you aren't sure how many of these cards are supported in your system as per your Mitel license agreement, you can purchase either a 9109-012-000 or 9109-012-001, which don't have this licensing restriction. Below are links to the 9109-012-000 and 9109-012-001:
Mitel 9109-012-000 DNI Line Card -
Click here for details.
Mitel 9109-012-001 DNI Line Card -
Click here for details.