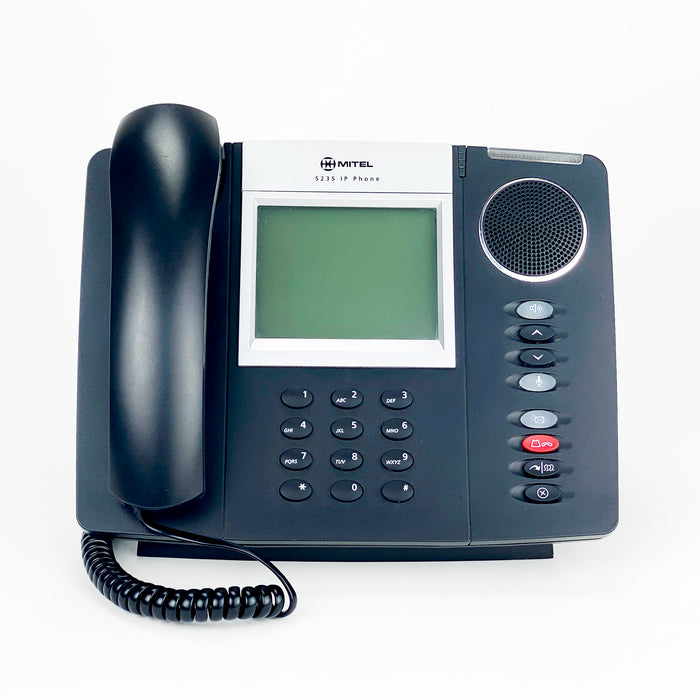 Mitel 5235 IP Phone (Part# 50004310)
Our Mitel 5235 IP Phones look and operate like new!
Rest assured that each Mitel 5235 IP Phone we sell has been thoroughly refurbished by us. What does this mean? It means that the following has been carefully performed by an iStream technician:
The housing has been scrubbed clean and sanitized.
All keys, buttons and switches have been tested.
Every function and feature has been verified.
A series of test phone calls have been made.
Each of our Mitel 5235 IP Phones come with the following:
New designation strips.
New network cable.
New handset cord.
Features:
Backlit Touchscreen Display - 340 x 240 pixels (comes with Stylus).
24 programmable touchscreen keys.
Speakerphone.
Message waiting key.
Handset/Speaker volume and ringer adjustment buttons.
Wall mountable.
Message waiting indicator light.
Adjustable tilt stand.
Compatibility:
The Mitel 5235 IP Phone is compatible with Mitel's SX-200 ICP and 3300 systems (via MiNET) or with any SIP compliant IP-based communications system.
Part Number:
50004310
Available Colors:
Dark Gray