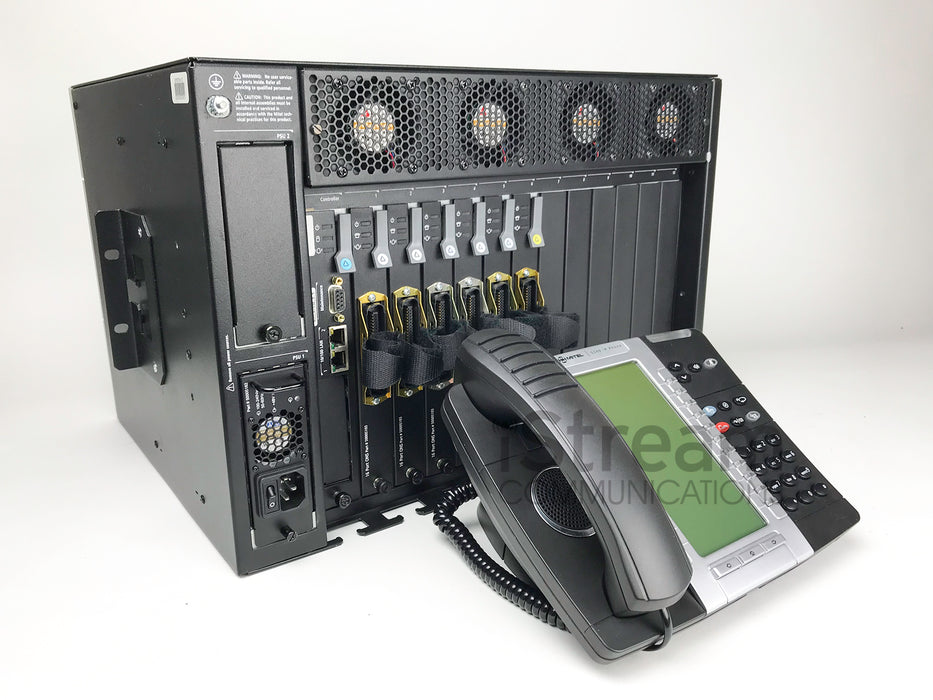 Complete Mitel 200 AX ICP Hotel Phone System (Up to 76 Guest Rooms)
SKU
MITEL-200-AX-SYSTEM-76
This Mitel system has been professionally refurbished by iStream and is configured to support 76 guest rooms, 4 outside, 8 Mitel IP telephone sets, and 10 voicemail boxes
(let us know if you require more and it may or may not affect price)
.

Does your hotel require support for more (or less) lines? Need help determining what your requirements are? Not to worry! Give us a call at: 570-714-6336. We're happy to assist you!

The Mitel 200 AX ICP telephone system is a great choice for hotels in need of the the latest features at a fraction of the cost of a new system:
- Wake-up Calls.
- Guest Room Outgoing Call Restriction.
- Has lodging features and supports PMS integration.
- Can be setup to support e911 Call Alerts, Kari's Law, and Ray Baum's Act. (May require additional hardware and programming for additional fee.)
- Support for Mitel 5540 IP console and Mitel 5200/5300 series IP phones.
- Supports caller-ID to console as well as cordless sets and IP phones.

- As configured only supports 10 voicemail boxes, if more are needed (such as one for each guestroom) additional fee may apply.
System Specs:
(1) Cabinet - 50005180 or 50006161
(1) Main Control Card - 50005181 or 50006181 or 50006508
(1) Power Supply - 50005182
(3) 24 Circuit ONS Line Card - 50005731
(1) 4 Trunk / 12 ONS Combo Card - 50005104
(1) 5340 IP Sub-Attendant Console/Phone - 50005804
(10) Voicemail Boxes (let us know if you require more and it may or may not affect price)
Looking for additional features?
iStream recommends the following designed-for-Mitel accessories from EZ Advantage:
-
EZ Call-A-Matic
-
EZ Music On Hold
Need room phones?
Take a look at EZ Advantage's affordable models:
-
EZ 5SM - Single-Line 5-Button Telephone
-
EZ Trim-Line Telephone