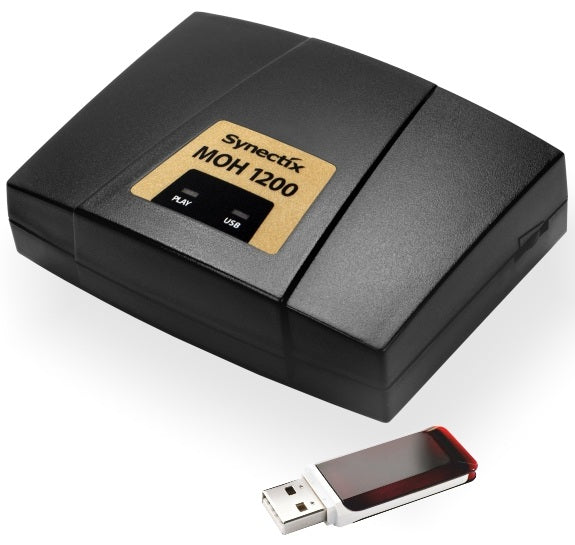 Synectix Music on Hold - MOH-1200
The Synectix Music on Hold MOH-1200 offer these features:
Connects to the music-on-hold port on your Mitel phone system.
100% digital operation; no moving parts to wear out and no batteries needed.
Easily record your own on-hold message.
MOH-1200 is an MP3 player, with a USB Flash-drive, offering easy downloading of custom prompts. The MOH-1200 comes with USB drive, which allows the customer to load MP3 files easily from most computers. This unit comes with a 4G flash drive, which can hold up to 32-hours custom messaging and a built-in speaker for testing. All you do is load the custom message onto the flash-drive and insert it into the MOH1200. Once you have completed these easy steps, you simply plug the power into unit. All recordings loaded into the internal memory will play in a continuous loop. Recordings that are no longer needed can simply be deleted from the USB Flash-drive and saved to a folder for later use. The order of play is the order in which the files were copied into the unit. This unit comes with a One-Year Warranty against defects.